Xray Bravo Zero One
Original
-
Acrylic
on
Canvas
-
122 × 91 cm
-
Free shipping (7 to 21 days)
Certificate of Authenticity from the artist
Free cancellation (up to 7 days after delivery)
About this artwork
The predicted future in the 1960s and '70s was one I always looked forward to with its combination of Syd Mead groovy and Swiss-style minimalism, but that's just not how things have played out and it depresses me at times. I'd still like to make my immediate environment more like that, though, so in late 2013 I started work on this piece which I admit is purely decorative in its abstract shapes, and which also allows me to take a break from what had become time-consuming and detail-oriented Pop Art works. I plan to do a series of large canvases like this, each one with a different color scheme and a cool-sounding but basically useless ID code (the XB:01 comes from a 1960s Czech sci-fi movie "Ikarie XB-1" I rediscovered last year after seeing it as a very young child on TV and then having vague memories of it for 35+ years, here translated into the NATO phonetic alphabet for the title).
Created by William Waggoner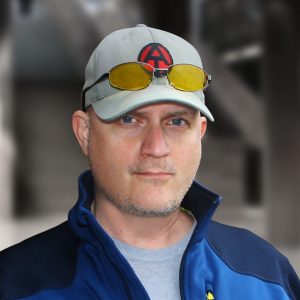 Styles:

Abstract, Pop Art
I try to create works that will have an appeal on multiple levels, paintings that are still visually striking even if the subtext is difficult to fathom.