Waverly Diner, New York
Original
-
Oil
on
Canvas
-
103 × 91 cm
-
Free shipping (7 to 21 days)
Certificate of Authenticity from the artist
Free cancellation (up to 7 days after delivery)
About this artwork
From the artists travels to New York City, this day she was in The West Village at Waverly Place on 6th Avenue when the sun was fading at the end of a hot April day. she caught sight of this restaurant The Waverly Diner with Subway beside it as she was crossing the Avenue a figure standing against the exterior was very much inspiring her to paint this one. So much was involved in the making of this painting, the shadows cast from the fire escapes on the red painted tall building above. The old fashioned street lamps from a time gone by. This has a classic Manhattan Landscape feeling about it. It's painted in oils on calico that is stretched over a wooden support and it is ready to hang.
Created by Georgia Peskett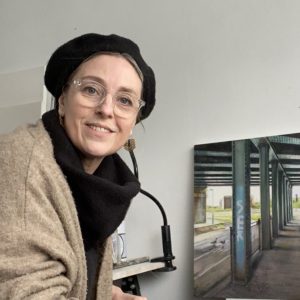 Styles:

Figurative, Fine Art, Realism
I always aim to find something beautiful or intriguing in the mundane everyday environment.