Trascender II
Sculpture
-
Bronze
,
Marble
-
11 × 11 × 25 cm
-
Free shipping (7 to 21 days)
Certificate of Authenticity from the artist
Free cancellation (up to 7 days after delivery)
About this artwork
Trascender I is a small bronce skull.

The title mens to Transcend. Francesca is interested in life and death dichotomy, and while most of her sculptures celebrate life and all its facets, this particular serie is about how death allows us to transform and transcend.

This piece has a golden patina, the elegant polished natural color of bronce.
The sculpture dimensions include the pedestal size.
Created by Francesca Dalla Benetta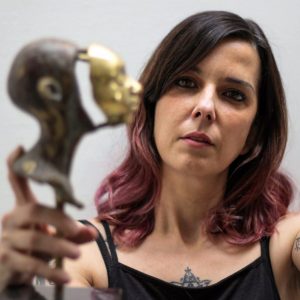 Styles:

Figurative, Fine Art, Realism, Surrealism