Tiks and Adders
Original
-
Oil
on
Canvas
-
102 × 56 cm
-
Free shipping (7 to 21 days)
Certificate of Authenticity from the artist
Free cancellation (up to 7 days after delivery)
About this artwork
The young girl walks bare foot through an English Deer park with two dogs, the ancestral home of Lady Jane Grey and home to England's only poisonous snake, the Adder. The artists captures the luminous green colour that can be found during cloudy, shadowless summer days. The picture is in a painterly realist manner and plays with two sets of complimentary colours, the red leads create strong negative shapes in the middle and the solitary yellow flower plays off the purple of the girls clothes.
Created by Chris Macauley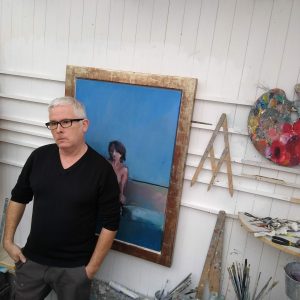 " I am always trying to discover what the painting is about, the object matter is not the subject matter".