The Causeway, Incoming Tide.
Original
,
Print
-
Oil
on
Canvas
-
120 × 31 cm
Original

1,900

$

Print

From 140

$
-
Free shipping (7 to 21 days)
About this artwork
This is the tidal road that connects the old port at Sunderland village to the rest of mainland Lancashire in the northwest of England and although it is still classed as the mainland it gets cut off by tidal waters twice a day and very often strands motorists who then have to be rescued. The tide is very fast, the land is an unforgiving mixture of marsh and quick sand. The large expanse of land and sea is best described by the panoramic format which captures the low heavy sky that hangs between the Lancashire Fells and the Irish sea to the west. The painting captures the rich variety of grey that filters the gold of the setting sun in this beautiful but unforgiving watery landscape.
Created by Chris Macauley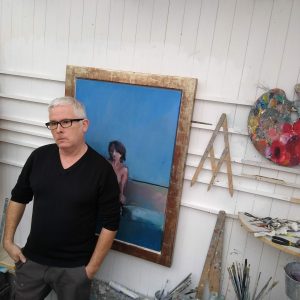 " I am always trying to discover what the painting is about, the object matter is not the subject matter".