Summer
Sculpture
-
Bronze
-
17 × 17 × 42 cm
-
Free shipping (7 to 21 days)
Certificate of Authenticity from the artist
Free cancellation (up to 7 days after delivery)
About this artwork
Summer is a bronze sculpture of a little boy with a lifebuoy.
It is part of a project called Los Niños y Sus Amigos Imaginarios (The children and their imaginary friends).


This is a special tribute to Children's nature, to their capacity to see through this reality, to maintain the innocence, to have faith in the impossible, to always have hope, to be spontaneous, to be authentic, and also to have fun.
In this sculpture, the little boy is playing with an aviator hat, as if swimming was like flying.

This piece is part of a series of 6, and the patina (colors) may vary a little from piece to piece (I always try to make them the most similar, but part of the patina's beauty is exactly their uniqueness).

The sculpture dimensions include the base size.


Created by Francesca Dalla Benetta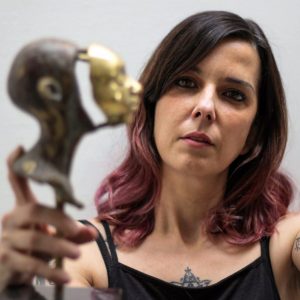 Styles:

Figurative, Fine Art, Realism, Surrealism