Star Daisies
Original
-
Acrylic
on
Canvas
-
60 × 60 cm
Sold
-
Free shipping (7 to 21 days)
Certificate of Authenticity from the artist
Free cancellation (up to 7 days after delivery)
About this artwork
Stars are the daisies that begem; The blue fields of the sky." – David Macbeth Moir

Wietzie created "Star Daisies" with a painting knife using different mark making techniques, which resulted in a textured surface. The flowers are done impasto style.

Wietzie uses the symbol of the flower to create a special intimacy with the audience, the latter being the perfect representation of human emotion: "it changes every minute and dies too early".
Created by Wietzie Gerber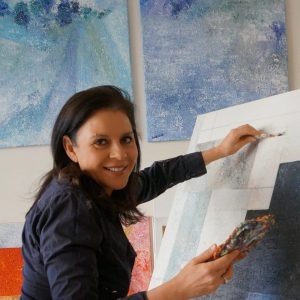 Styles:

Abstract, Expressionism, Minimalism
Art is an adventure full of mystery, frustration and profound joy. I am continuously torn between despair and elation.