Spirit of surf 124-21
Sculpture
-
Bronze
,
Steel
-
12 × 11 × 35 cm
Sold
-
Free shipping (7 to 21 days)
Certificate of Authenticity from the artist
Free cancellation (up to 7 days after delivery)
About this artwork
Sculpture representing two characters in the shape of surf in lace of steel and bronze metal.
This sculpture was created by dripping, by melting the steel and bronze.
Steel base diameter 10 cm
Unique piece, signed, and accompanied by its certificate of authenticity.Translated automatically
Created by Philippe Buil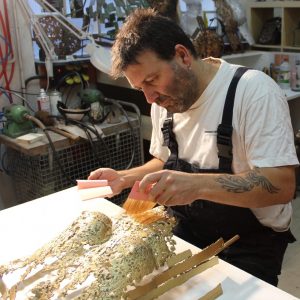 Le jeu de l'ombre et de la lumière, du conscient et de l'inconscient sont pour moi, les bases de la rencontre autour d'une œuvre.