Serenity
Original
-
Acrylic
on
Canvas
-
24 × 30 cm
Sold
-
Free shipping (7 to 21 days)
Certificate of Authenticity from the artist
Free cancellation (up to 7 days after delivery)
About this artwork
The only thing I was trying to portray was serenity. Also, innocence, vulnerability and elegance.
Sylvia Kristel

Wietzie created 'Serenity' with a painting knife using a unique impasto technique, which adds texture and movement to express an inner emotional state. Working in a bold, colourful and inventive gestural style, her work is characterized by their luminous layers of colour. Wietzie is inspired by nature and poetry, and uses both to interpret the minutiae that stirs her emotions.
Created by Wietzie Gerber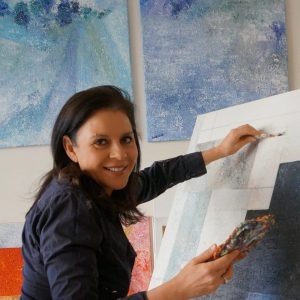 Styles:

Abstract, Expressionism, Minimalism
Art is an adventure full of mystery, frustration and profound joy. I am continuously torn between despair and elation.