SCATTERED
Original
-
Acrylic
,
Ink
,
Other
on
Canvas
-
85 × 104 cm
Artwork framed by the artist
-
Free shipping (7 to 21 days)
Certificate of Authenticity from the artist
Free cancellation (up to 7 days after delivery)
About this artwork
BE SURE TO WATCH MONIQUE'S VIDEO WHICH ACCOMPANIES THE PHOTO'S OF THIS WORK TO HEAR HER EXPLAINING THE CREATIVE PROCESS BEHIND IT AT: https://www.youtube.com/watch?v=iBXX9sn2918

Monique's latest works were inspired by the drawings of the brain by neuro-scientist Santiago Ramon y Cajal but incorporate all levels of our being - physical, mental, emotional and spiritual. She spent a year experimenting with new techniques and developing her own mediums in order to complete the work which incorporates vibrant colours, intricate patterning and organic shapes.

Signed to the back to allow for hanging in any orientation. Finished in archival quality UV resistant gloss varnish. Mounted in a professionally made wooden FLOATING FRAME & ready to hang.

DIMENSIONS:
100 X 85 cms
40 X 33.5 inches

MEDIUM:
Mixed Media on LINEN Canvas
Created by Monique Oliver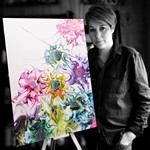 Styles:

Abstract, Expressionism
Using advanced fluid and mixed media techniques my work explores themes of order and chaos.