Salty Sea Dog
Original
,
Print
-
Oil
on
Canvas
-
86 × 86 cm
Original

3,800

$

Print

From 140

$
-
Free shipping (7 to 21 days)
About this artwork
This painting is set on a tidal estuary in Devon where these men have been fishing the waters in the same traditional way for generations. It is the end of a long summers day and the catch has caught the interest of the fisherman's dog. The men are carefully positioned around the boat and have a timeless statuesque quality, with the subtle horizon line implied by a few gentle brush strokes in the distance. The dynamic contrast in this picture is being generated by the sweeping curve of the hull and the luminous green of the seaweed moss reflected in the gentle ripple of the water as it laps against the shore.
Created by Chris Macauley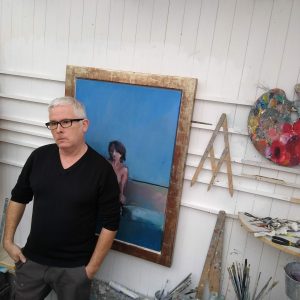 " I am always trying to discover what the painting is about, the object matter is not the subject matter".