Renacer
Sculpture
-
Bronze
-
21 × 21 × 18 cm
-
Free shipping (7 to 21 days)
Certificate of Authenticity from the artist
Free cancellation (up to 7 days after delivery)
About this artwork
Renacer is a bronze sculpture of a dead bird with many flowers coming out from its stomach.
The title means reborn in Spanish.
In the artist conception, transformation begins from inside out. In this piece, the flowers are the renewal of life that arises from death.

This piece has a black and green patina, the classical bronze colors. The black patina is made from the green one, after the burning process, so magical and mystical.

This piece is part of a series of 6. The flowers are completely handmade and will be different from piece to piece. Also the patina (colors) may vary a little from piece to piece (I always try to make them the most similar, but part of the patina's beauty is exactly their uniqueness).


Created by Francesca Dalla Benetta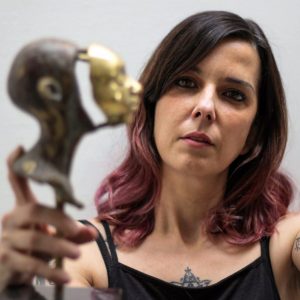 Styles:

Figurative, Fine Art, Realism, Surrealism