Oceano
Sculpture
-
Bronze
,
Marble
-
15 × 15 × 40 cm
-
Free shipping (7 to 21 days)
Certificate of Authenticity from the artist
Free cancellation (up to 7 days after delivery)
About this artwork
Oceano is a bronze sculpture of a girl with coral hair. At the same time, the shape of the hair resemble a flame.

The title "Oceano" is a reference to the color of the ocean.
The girl has an expression of surprise on her face, as if she were amazed by what she sees. What does she see? no one knows… it's a bit of a mystery about this job. The artist leaves it to the viewer's imagination.

The patina (color) was an experiment: the black is due to the burned green, so the flame was applied on the top of the head and let it until the color had changed to a deep obsidian black.
Francesca is very interested in doing herself the patinas and play with the magical power of fine. It's a very alchemical connection with her own work.

This piece is part of a series of 6, and the patina (colors) may vary a little from piece to piece (I always try to make them the most similar, but part of the patina's beauty is exactly their uniqueness).

The size includes the marble base.
Created by Francesca Dalla Benetta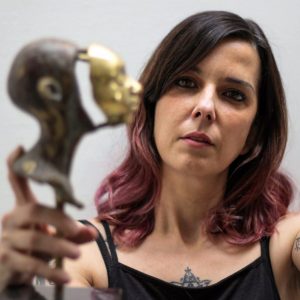 Styles:

Figurative, Fine Art, Realism, Surrealism