Mariposa
Sculpture
-
Bronze
-
11 × 14 × 50 cm
-
Free shipping (7 to 21 days)
Certificate of Authenticity from the artist
Free cancellation (up to 7 days after delivery)
About this artwork
Mariposa is a female bronze sculpture, made of multiple accesories.

This is one of my transformative and transformational women sculptures.
She is capable of pure beauty and strength.

She has 5 different and interchangeable objects:
a butterfly (Mariposa in spanish)
a diamond
a heart
a brain
an insect with a skull head

All this little things can be inserted in her chest or back, to show a different mood or feeling.

Please remember that this piece is part of a series of 6, and the patina (colors) may vary a little from piece to piece (I always try to make them the most similar, but part of the patina's beauty is exactly their uniqueness)

The size includes the base.
Created by Francesca Dalla Benetta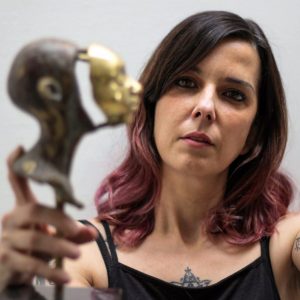 Styles:

Figurative, Fine Art, Realism, Surrealism