Magnolias (Through Glass 03)
Original
-
Oil
on
Fabric
-
60 × 73 cm
-
Free shipping (7 to 21 days)
Certificate of Authenticity from the artist
Free cancellation (up to 7 days after delivery)
About this artwork
During the Spring of 2021 Georgia was interested in the changing Magnolia tree outside her window, she noticed the delicate flowers that were appearing.
As she viewed them through the misted glass of her window she took many photographs and explored this subject in depth.
The glass would create illusions in the flowers she saw, this is one of a group of these natural studies that the artist is presenting here this year.
Reminiscent of the European Impressionists such as Monet, the artist's garden has always held a fascination, a window into the green world that lies just beyond.
Brush marks are loose and free in this painting holding our attention the magnolias appear suspended.

The work is made in a unique way using oils and wax on silk over canvas.
It is ready to hang.
Created by Georgia Peskett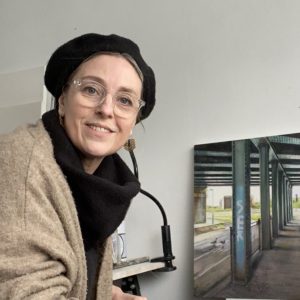 Styles:

Figurative, Fine Art, Realism
I always aim to find something beautiful or intriguing in the mundane everyday environment.