Living Beauty
Original
-
Acrylic
on
Canvas
-
60 × 60 cm
Sold
-
Free shipping (7 to 21 days)
Certificate of Authenticity from the artist
Free cancellation (up to 7 days after delivery)
About this artwork
It always seemed to me that the herbaceous peony is the very epitome of June. Larger than any rose,
it has something of the cabbage rose's voluminous quality; and when it finally drops from the vase, it
sheds its petticoats with a bump on the table, all in an intact heap, much as a rose will suddenly fall,
making us look up from our book or conversation, to notice for one moment the death of what had
still appeared to be a living beauty.
Vita Sackville-West

Wietzie created Living Beauty with a painting knife using different mark making techniques, which resulted in a textured surface. The flowers are done impasto style.
Created by Wietzie Gerber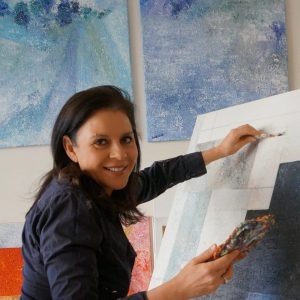 Styles:

Abstract, Expressionism, Minimalism
Art is an adventure full of mystery, frustration and profound joy. I am continuously torn between despair and elation.