Le Penseur, Hommage à Rodin
Original
-
Acrylic
,
Spray paint
on
Canvas
-
73 × 116 cm
-
Free shipping (7 to 21 days)
Certificate of Authenticity from the artist
Free cancellation (up to 7 days after delivery)
About this artwork
This is a tribute to Rodin and his famous sculpture.

"The Thinker is absorbed in his reflections. Imposing of wisdom, what is he thinking about? The letters that compose him and fly away are so many tracks to imagine his thoughts." Lucie Lith

This work was created with mixed acrylic spray paint and stencils.
It is composed of more than 20 layers of stencils.

The edges are painted and an attachment is provided on the back, which does not make framing essential and allows for immediate wall hanging.

This is a unique piece.
The stencil frames have been destroyed after use.

The signature is on the back of the work.Translated automatically
Created by Lucie Lith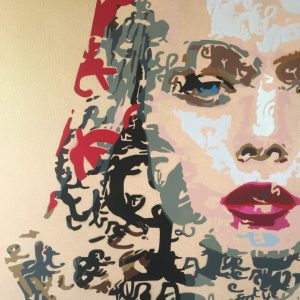 Styles:

Figurative, Portraiture, Street Art
"Nous sommes faits de mots"