La Vida – Choose
Sculpture
-
Bronze
,
Marble
-
12 × 12 × 34 cm
-
Free shipping (7 to 21 days)
Certificate of Authenticity from the artist
Free cancellation (up to 7 days after delivery)
About this artwork
La Vida – Choose is a bronze bust with 4 different hands.

Many layers of significance are contain in this piece.

The hair has written the word La Vida, that in spanish means LIFE. Also it has the word choose on the right part of the head. The artist plays with these words, inviting to choose, not to choose life, but to choose whatever you think is good for you, because life is a choice.

Also, the piece is a beautiful interactive game where you can CHOOSE what to do with it, moving the 4 hands around (literally they can turn) and also pick the hand you prefer in any moment to communicate.

The contrast between the golden polish, the dark/black and gray patinas stand for contrasts. Somehow, giving LIFE a meaning and worth.

The aesthetics could remind steampunk, where elegance and decadence of past and future meet.

Any piece is handmade so the patina could be a little different from the picture.
The sculpture dimensions include the pedestal size.
Created by Francesca Dalla Benetta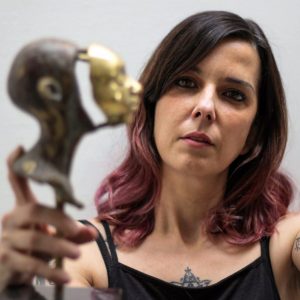 Styles:

Figurative, Fine Art, Realism, Surrealism