La Tuffatrice
Sculpture
-
Bronze
-
11 × 34 × 42 cm
-
Free shipping (7 to 21 days)
Certificate of Authenticity from the artist
Free cancellation (up to 7 days after delivery)
About this artwork
La tuffatrice (The Diver in Italian) is a bronze sculpture of a winged woman and big flowered hair ready to dive.

She has closed eyes and a serene smile on her face because she knows she cannot control everything in her life and she simply has faith in her power and that the universe has her back. It's not blind faith, it's the knowing that, being herself, she'll have a wonderful life of growing and happiness.

The model in this piece is one of the artist's dearest friends, an exceptional woman who inspires Francesca to be more of herself on a daily basis.

This sculpture has a black and green patina with golden details, polished to reveal the natural bronze color. The black patina is made from the green one, after the burning process, so magical and mystical.

This piece is part of a series of 6, and the patina (colors) may vary a little from piece to piece (I always try to make them the most similar, but part of the patina's beauty is exactly their uniqueness).

The size includes the base.
Created by Francesca Dalla Benetta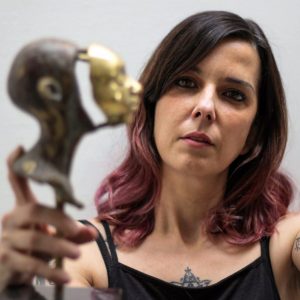 Styles:

Figurative, Fine Art, Realism, Surrealism