Kurt Cobain
Original
-
Acrylic
on
Canvas
-
40 × 40 cm
-
Free shipping (7 to 21 days)
Certificate of Authenticity from the artist
Free cancellation (up to 7 days after delivery)
About this artwork
Pop art portrait of American music and grunge icon Kurt Cobain. With the quote "I'd rather be hated for who I am than loved for who I am not." Always true to himself.

This is one of a series I'm working on called 'Happier Times' focussing on icons who mean something to me personally. Taken from all fields of popular culture, they're people who tragically took their own lives or died too young. The portraits are based on photos of the subjects where they have what I perceive to be a genuine smile or laughter on their face, not taken from any movie or 'forced smile' situation, but rather capturing a moment of genuine happiness.

Kurt, thanks for providing the soundtrack to my youth.

Acrylic on canvas. The sides are painted black ready to hang direct, or frame.

This painting will be packaged to professional standards and shipped to wherever you are in the world from my studio here in Southern Paraguay. Shipping and insurance costs are included in the price you see.
Created by Jamie Lee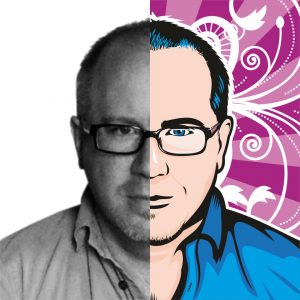 There's enough dark art around, I don't have a problem with it but I'll leave that to other artists. I want to brighten a wall with light, color and love.