KINTSUGI – BROKEN BEAUTY
Original
-
Acrylic
,
Other
on
Canvas
-
81 × 100 cm
-
Free shipping (7 to 21 days)
Certificate of Authenticity from the artist
Free cancellation (up to 7 days after delivery)
About this artwork
BE SURE TO WATCH MONIQUE'S VIDEO WHICH ACCOMPANIES THE PHOTO'S OF THIS WORK TO HEAR HER EXPLAINING THE CREATIVE PROCESS BEHIND IT AT: https://www.youtube.com/watch?v=2A2kXn4xhhw

There is a Japanese rationale for keeping an object around even after it has broken, highlighting the cracks and repairs as simply an event in the life of an object rather than allowing its service to end at the time of its damage or breakage. KINTSUGI is the art of "golden joinery" & celebrates the BEAUTY IN BROKEN THINGS

Not only is there no attempt to hide the damage, but the repair is literally illuminated...
"The vicissitudes of existence over time, to which all humans are susceptible, could not be clearer than in the breaks, the knocks, and the shattering. This poignancy or aesthetic of existence has been known in Japan as mono no aware, a compassionate sensitivity, or perhaps identification with, [things] outside oneself." — Christy Bartlett, Flickwerk:

A large area of bare substrate (linen) has been left unpainted adding further contrast to this striking work. Signed to the back to allow for hanging in any orientation. Finished in archival quality UV resistant satin varnish, & ready to frame or hang directly on the wall.

DIMENSIONS:
100 X 81 cms
40 X 32 inches

MEDIUM:
Mixed Media on LINEN Canvas
Created by Monique Oliver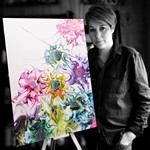 Styles:

Abstract, Expressionism
Using advanced fluid and mixed media techniques my work explores themes of order and chaos.