Kali
Sculpture
-
Bronze
-
15 × 15 × 49 cm
-
Free shipping (7 to 21 days)
Certificate of Authenticity from the artist
Free cancellation (up to 7 days after delivery)
About this artwork
Kali is a female bronze sculpture, composed of multiple pairs of hands.

Francesca was inspired by Kali, who in the Hindu religion, is the feminine part of Shiva, the god who destroys and renews the universe.

This piece has the peculiarity of modification by placing the 4 pairs of hands in different positions, this changes the sculpture.
It is an "emotional" piece, where you can show your state of mind due to the possibility of modifying and personalizing it.

Some examples of different positions are showed in the photos.

The patina is a green and black, with a particular burned effect. Hands are dark with golden fingers.

The size includes the base.
Created by Francesca Dalla Benetta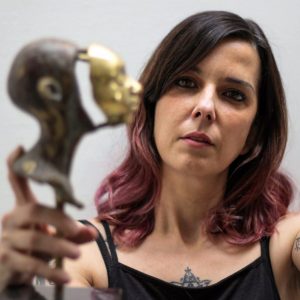 Styles:

Figurative, Fine Art, Realism, Surrealism