In the memory of my bonsai tree
Sculpture
-
Resin
,
Spray paint
on
Aluminium
,
Resin
-
130 × 80 × 190 cm
19,600

$
(including taxes)
-
Free shipping (7 to 21 days)
Certificate of Authenticity from the artist
Free cancellation (up to 7 days after delivery)
About this artwork
Years ago I was gifted a 10 year old bonsai tree. Every time I came home I saw her, it was important for me to see her. For 16 years I took care of her, made sure she was healthy. I shaped her like a natural sculpture.
Last year I decided to get a dog. Within the same week I noticed my bonsai tree looking paler and forlorn. The leaves were no longer reaching upwards. She was looking unhealthy, unhappy. I'm unsure what happened but she suddenly seemed to wither up and die.
Now the empty pot stares at me. It's possible the tree felt she was no longer the centre of my attention. Maybe because I stopped caring, it was time for her to leave. Perhaps she had the desire to run, to be free but was trapped in her pot. Her spirit moving across in to my dog so she could run free.
Those things we put our focus on flourish and grow. So this sculpture is made; In the memory of my bonsai tree.
Created by Sam Shendi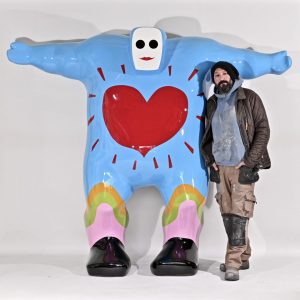 Styles:

Abstract, Figurative, Minimalism, Pop Art
My sculptures are like my diary, constantly reminding me that I exist.