Greyhound at Whitstable
Original
-
Oil
on
Canvas
-
78 × 118 cm
-
Free shipping (7 to 21 days)
Certificate of Authenticity from the artist
Free cancellation (up to 7 days after delivery)
About this artwork
This painting was made from a photograph I took whilst in Whitstable (a coastal town in the South East
of England). I inconspicuously photographed a greyhound that belonged to a passerby as I had been
wanting to paint one for a while, I happened to be struck by the scene that was serendipitously
unfolding before me, the light and shadow, the texture of the dog's fur.

The painting also takes direct inspiration from the Whitstable landscape, how the long stretch of beach is jarringly divided by the groynes, the crash of the waves, the sky meeting the sea, the ochre land. The subject matter is deconstructed, rearranged and reassembled; the painting isn't realist, surrealist or entirely representational, it falls somewhere between artistic movements and begins to encompass some of the variety of aesthetic styles that inform my work.
Created by Joshua Daniels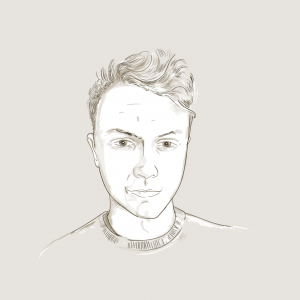 Styles:

Geometric, Minimalism, Realism, Surrealism
My paintings are characterised by depictions of animals, juxtaposition and often humorous commentary.