Fuochi
Sculpture
-
Bronze
,
Marble
-
6 × 40 × 22 cm
-
Free shipping (7 to 21 days)
Certificate of Authenticity from the artist
Free cancellation (up to 7 days after delivery)
About this artwork
Fuochi is a bronze sculpture composed of 6 small heads with flame shape.

Fuochi means "Fires" (fuegos) in Italian, Francesca Dalla Benetta's mother tongue. The artist is fascinated by this elemental, she consider the fire one of the most powerful sacred forces in nature, that purify and destroy.
This sculpture is a mix of experiments, both the expressions on the 6 little faces, all different, and the same game of fire in the foundry, where the challenge was to burn the small heads with different intensities.

This piece has a black and green patina. The black patina is made from the green one, after the burning process, so magical and mystical.

This piece is part of a series of 6, and the patina (colors) may vary a little from piece to piece (I always try to make them the most similar, but part of the patina's beauty is exactly their uniqueness).

The size includes the marble base.
Created by Francesca Dalla Benetta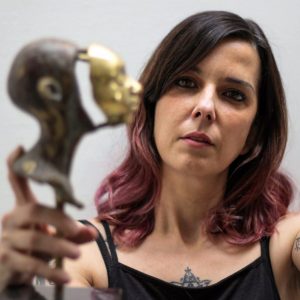 Styles:

Figurative, Fine Art, Realism, Surrealism