Flower Girl
Sculpture
-
Bronze
-
8 × 8 × 13 cm
-
Free shipping (7 to 21 days)
Certificate of Authenticity from the artist
Free cancellation (up to 7 days after delivery)
About this artwork
Flower girl is a small woman bronce bust with big flower hair.

It is a delicate symbol of femininity.
Francesca loves to work with woman body, an ode to beauty and vulnerability.

This piece has a black and green patina.The black patina is made from the green one, after a burning process, so magical and mystical.

This piece is part of a serie of 6, and the patina (colors) can vary a little from piece to piece (I always try to make them the most similar, but part of the beauty of patinas is exactly their uniqueness).
Created by Francesca Dalla Benetta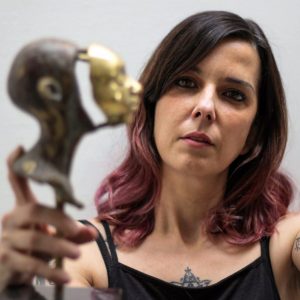 Styles:

Figurative, Fine Art, Realism, Surrealism