Empress Bardot
Original
-
Collage
,
Oil
,
Mixed-Technique
on
Other
-
46 × 191 cm
-
Free shipping (7 to 21 days)
Certificate of Authenticity from the artist
Free cancellation (up to 7 days after delivery)
About this artwork
Empress Bardot - mixed media on surfboard. Celebration of sensuality, sexuality, beauty, feminine, goddess, and Bridget Bardot as the main character, as well as other icons Marilyn Monroe, Sharon Tate, Aphrodite, Madonna...painted on surfboard, with application of oil paint, paper, found objects etc on surfboard. Varnished lightly to protect. Black background on the back of the board. This is not a surfboard to use in surf. It is a piece of artwork. It has imperfections but that is part of the beauty. I find old discarded surfboards and like kintsugi I 'mend' them and infuse them with gold paint and bring the board back to life in a different way. Bespoke, no one surfboard is the same.
Created by Fiona Maclean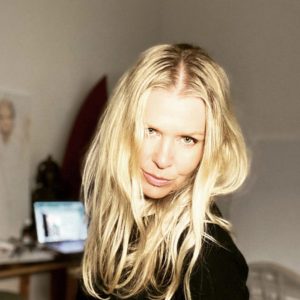 Styles:

Figurative, Fine Art, Impressionism, Portraiture
"I am interested in layers, and what it is to be human, sensuality, sexuality and what it is to be female in the world."