Conditions Normal — We're Coming Home!
Original
-
Acrylic
on
Canvas
-
147 × 94 cm
14,000

$
(including taxes)
Artwork framed by the artist
-
Free shipping (7 to 21 days)
Certificate of Authenticity from the artist
Free cancellation (up to 7 days after delivery)
About this artwork
In 2004 I left a stable, full-time job to simultaneously start my own design business and pursue a fine art career. Like most new businesses, the first couple of years were rough both financially and emotionally, and I frequently regretted my decision to exit the work-a-day world and the predictable income it provided. But by 2006 things had started to turn around: while I wasn't making a healthy profit I was at least meeting my expenses, and my artwork was starting to appear in exhibitions. Around this time my mother gave me a set of stretcher bars that my grandmother had owned but never used, so I decided to stretch a large canvas for a painting of an F-14 Tomcat that I had been wanting to do for some time. As my mood was upbeat so was the final piece, using a paraphrased lyric from OMD's "Enola Gay" as text and title (the song's zippy synth melody runs through my my head whenever I look at this painting). [Dimensions include frame.]
Created by William Waggoner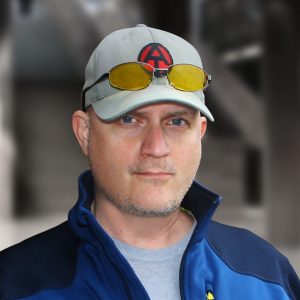 Styles:

Abstract, Pop Art
I try to create works that will have an appeal on multiple levels, paintings that are still visually striking even if the subtext is difficult to fathom.