COMPOSICIÓN CILÍNDRICA Y LÍNEA V
Sculpture
-
Marble
,
Stone
-
20 × 26 × 90 cm
Temporary unavailable
-
Free shipping (7 to 21 days)
Certificate of Authenticity from the artist
Free cancellation (up to 7 days after delivery)
About this artwork
Unique work made in black Calatorao marble in one piece. It includes a 32 x 32 cm surface of oxidised patinated steel pedestal, measurements of the work with pedestal 179 cm.
Created by Borja Barrajon Acedo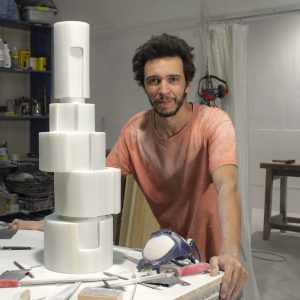 Styles:

Abstract, Fine Art, Geometric
Matter occupies a place in space under a given condition or problem. I pursue the sensory experience through the object and its light.