Coffee Sack Series No. 1. THE GOD OF INDONESIAN COFFEE.
Original
-
Acrylic
,
Collage
on
Canvas
-
50 × 50 cm
Artwork framed by the artist
-
Free shipping (7 to 21 days)
Certificate of Authenticity from the artist
Free cancellation (up to 7 days after delivery)
About this artwork
Number 1 of this artists series of works using hessian coffee sacks, collaged on canvas painted with acrylic paint. This vibrant and visually exciting piece comes signed and dated front and back of the work, in a deep edge handmade white wood float frame, ready to hang. with a signed certificate of authenticity.'
This was the first painting of this seminal series of F G Davis' output in 2016. The use of commercially available coffee sacks, first seen and purchased by the artist whilst exhibiting his work in Brick Lane London in 2012, was the springboard for an idea to produce a series of paintings. The work comes framed in a handmade, white wood floater frame and is accompanied by a signed certificate of authenticity.
'As an artist coffee keeps me going, not unusual I suspect. Its use and influence is acknowledged worldwide. In this series I was very conscious of the wider implications of its history, both past and present. The role of the slave trade in the exploitation of resources and peoples is still a very real problem for the west to justify. For me this series of works extend beyond the confines of aesthetics and engage in the wider debate which questions the viability of our ideas of understanding and the fundamental concepts of society and inclusion.
Created by FG Davis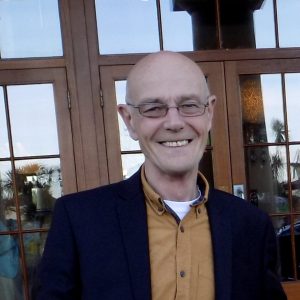 The artist opens windows so that we can experience the world more directly.