Automa CV-21
Sculpture
-
Bronze
,
Marble
-
13 × 11 × 28 cm
-
Free shipping (7 to 21 days)
Certificate of Authenticity from the artist
Free cancellation (up to 7 days after delivery)
About this artwork
Automa-CV-21 is a small androgynous bronze bust, with a displaced face.

The concept represents a mask, but this time, the mask doesn't hide a house, it is the face the hidden one. It's confusing what it really is and what it hides.

The face seems to be ripped and removed from its place, but it is still anchored to the head. It is more of a forward projection, and this is indicated by the serene expression of this little character.

It could be a robot from an Asimov tale.

Francesca plays with the final touches: the head has an industrial and old look, while the face is smooth and shiny by an antique gold polish.

All pieces are handmade so the patina could be a little different from the picture.
The sculpture dimensions include the pedestal size.

Created by Francesca Dalla Benetta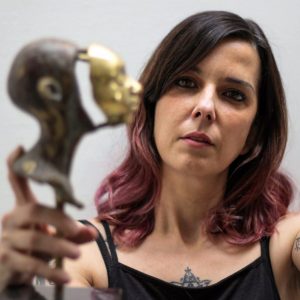 Styles:

Figurative, Fine Art, Realism, Surrealism