Automa BRN-21
Sculpture
-
Bronze
,
Marble
-
13 × 12 × 31 cm
-
Free shipping (7 to 21 days)
Certificate of Authenticity from the artist
Free cancellation (up to 7 days after delivery)
About this artwork
Automa brn-21 is a small androgynous bronze bust. Its skull can be opened with a hinge mechanism to reveal a shiny golden brain.

Francesca is interested in life, and while most of her sculptures celebrate life and all its facets, this particular piece is about a vision of artificial life. This theme was more common in the artist's research especially in her early years of studying art.

This is a serie of 6 pieces, the patina is handmade and may vary a little, and it is one of its characteristics and beauty.
The sculpture dimensions include the pedestal size.
Created by Francesca Dalla Benetta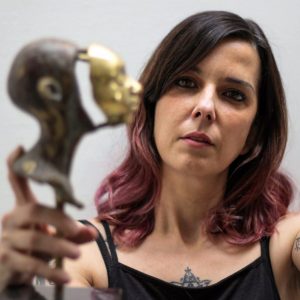 Styles:

Figurative, Fine Art, Realism, Surrealism