UNDERWATER INTERSECTION
Original
-
Acrylic
,
Ink
,
Other
on
Canvas
-
100 × 100 cm
-
Free shipping (7 to 21 days)
Certificate of Authenticity from the artist
Free cancellation (up to 7 days after delivery)
About this artwork
BE SURE TO WATCH MONIQUE'S VIDEO WHICH ACCOMPANIES THE PHOTO'S OF THIS WORK TO HEAR HER EXPLAINING THE CREATIVE PROCESS BEHIND IT AT: https://www.youtube.com/watch?v=EQ6_qnM5eYk

A foundation layer was originally poured onto the canvas in 2018. In early 2021 the original pour was embellished with mixed media comprising elements of decoupage, stencilling and expressive brush strokes in vibrant colours. The end result is a re-invention of Monique's unique style incorporating mark-making, gestural strokes and complex details, whilst retaining elements of the original work.

Signed to the back to allow for hanging in any orientation. Finished in archival quality UV resistant gloss varnish, & ready to frame or hang directly on the wall.

DIMENSIONS:
100 X 100 cms
39.5 X 39.5 inches

MEDIUM:
Mixed Media on stretched gallery-wrapped DEEP EDGE Canvas

www.moniqueoliver.co.uk
Created by Monique Oliver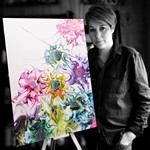 Styles:

Abstract, Expressionism
Using advanced fluid and mixed media techniques my work explores themes of order and chaos.