When the paint is dry my work is just beginning.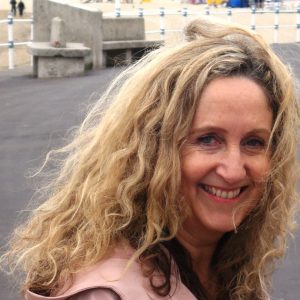 Styles:

Abstract, Fine Art, Minimalism, Other
Artist Statement
My artistic process is centred on the exclusive use of unsupported, dried paint. I create original paintings, without brushes or canvas. The result is an inherently flexible material which can be exploited to investigate my interest in textile, collage, and sculptural techniques.

My works are intricately detailed creations involving many hours of methodical cutting and layering. Ultimately, my core aim is to generate conversation about the nature of painting and to challenge expectations of what a painting can be.

Biography
Born in the UK, Julee settled in Australia in 2005 after spending the previous 17 years moving internationally many times. Her life has been a patchwork of cultures. This plays out in her desire to deconstruct her work.

Julee has been a full-time artist for many years achieving international recognition for her work in mosaic art and her authorship of the book Sculptural Secrets for Mosaic (Schiffer Publishing, USA). Julee has exhibited widely in Australia as well as the United States and Italy. She has been selected as a Finalist for a number of prestigious Australian Art Prizes. Her artworks are held in private collections worldwide.

Julee holds a Bachelor of Fine Art with majors in Painting and Sculpture, from Curtin University, Perth. She also has diplomas in Interior Design and Colour Therapeutics.

Julee currently lives and works in Melbourne.

Interview of Julee Latimer for Gallery Crillon
How did your life path and experiences influence your artistic style?
Before settling in Australia in 2005 I spent the previous 17 years moving internationally 12 times. Originally from the UK, I feel that my life has been a patchwork of cultures and this influences the desire to deconstruct and then rebuild my work.

The initial instability felt when moving to a new country influences the way in which I use unsupported dried paint which I then stabilize by adhering it to a surface.
How do you cultivate your artistic creation?
I make paintings without brushes and wait until the paint is dry until it is manipulated. The paint quite literally creates itself and when removed from its support I am able to choose which side of it to show.

I cut, fragment, and layer the dried paint to explore my interest in sculptural, textile, and collage techniques. The process after drying is extremely hands-on and time-consuming.
What message do you want to convey through your art?
I want to challenge mainstream views of painting by offering a different way in which to create a painting. I would like the viewer to question what they expect a painting to be.
Can you tell us about a project you are currently working on?
Due to the lengthy time factor involved in my art I often work across a number of artworks at any given time. I work in series and am currently involved in creating works in my Patchwork, Fringe, and Drip Collections.

Each one explores paint in a slightly different way. For the Patchwork Series I cut the paint into strips and apply it in a way inspired by quilting. In my Fringe Collection the paint is cut into small pieces and layered onto the canvas. For my Drip paintings I dry thousands of individual paint drips and then layer and glue them to the canvas.
What's next for you?
My art practice is very process based, I am obsessed with the use of dried paint as a material. As such, what is always next, is the exploration into other ways of creating with this material.
Where do you get your inspiration from?
Although I title my works with fairly realistic names, the actual inspiration is purely the paint.

I work with most of my interest firmly held in the process rather than the result and my choice of colour is often guided by using hues that are different from the previous artwork rather than from any specific guideline.

I am often asked where I get my inspiration from yet I feel it is neither outside nor within myself, it is purely guided by the material that I use. I can use quilting techniques, for example, but this stems from a desire to blend art with craft rather than a need to create a paint quilt.
Translated automatically
Artist's credentials
Prizes / Awards
(2021 - 11 - 01)
Bluethumb Art Prize Melbourne, Australia Finalist
Prizes / Awards
(2021 - 03 - 01)
Wyndham Art Prize Melbourne, Australia Finalist
Prizes / Awards
(2020 - 03 - 01)
Wyndham Art Prize Melbourne, Australia Finalist
Prizes / Awards
(2019 - 03 - 01)
Wyndham Art Prize Melbourne, Australia Finalist
Prizes / Awards
(2019 - 06 - 01)
45 Downstairs Art Prize Melbourne, Australia Finalist