Je ne sais pas où je vais, je saurais où je suis allé lorsque je me retournerai.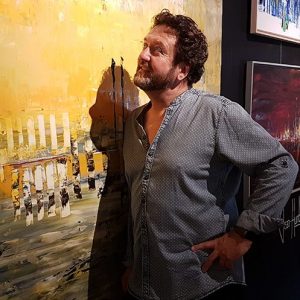 ARTISTIC APPROACH :

I followed a Superior Course of Decorative Painting in 1995 which trained me in the discipline of trompe-l'oeil and imitation materials, marble, wood etc...
Since 1996 I have been applying the knowledge gained from this training by painting all sorts of trompe-l'oeil, frescoes etc. in private homes and public places.
I painted a fresco in the hotels Méridien ROYAL MANSOUR in Casablanca and THE FISHERMAN'S COVE in the Seychelles.

I was then tempted by painting on canvas, a freedom to paint what I wanted rather than what was ordered.
My training and experience immediately directed me towards figurative and hyper realism.
I painted with oil and the lights, shadows and shading were my daily lot.
If the success of esteem was there I quickly realized that painting on canvas had nothing in common with the wall. I no longer had a privileged relationship with my client who allowed me to exchange and share the fruit of our thoughts in order to project them on the wall.
Alone in front of the canvas, I only brought to the spectator a finished product leaving no room for daydreaming or interpretation of what I had painted, the "mass was said...".

In 2013, a little tired, I step back from my painting, and I try to get out of the rigid space in which the art of trompe-l'oeil confined me, hoping to escape: my dream, to paint by intuition, to see the canvas evolve as I go along without knowing where I'm going, to paint something pretty, elegant, poetic that leaves room for the viewer to project himself, to enter the canvas and make it his own.

A few years later I heard Soulage say: "the difference between a craftsman and an artist is that the craftsman knows where he is going".
This sentence resounded in me, it was the path I had taken...

My first attempts were unsuccessful, I had too many habits, too many references with brushes and oil paint, if I wanted to continue to paint, I had to change everything!
So I swapped my brushes for knives, oil paint for acrylic paint, glazes for thickness and finally... the figurative for the abstract, or abstract impressionism.
Verticality and coloured harmonies were obvious to me.
My first paintings of this period were divided into several rectangles of unequal size, with miniature canvases of different sizes adjoining each other on the same canvas.
I was already painting silhouettes, almost unknowingly, without really knowing if they represented humans, pieces of wood or other materials, but despite myself the verticals were always present.
I then wanted to give a little roundness to the rigidity of certain paintings.
The round, the sphere, seemed incompatible with the elegance I was looking for.
So I had the idea of projecting slightly diluted paint and making convolutions on certain canvases that seemed too rigid to me, these nets of paint made me think of calligraphy, which is an art in its own right, I just gave these last touches the name of "Kaligrafik" so that of course it is not related to the art in question, but that it makes you think of it.
These effects are only present on the canvases where the verticals were too marked for my taste and where their reading lacked flexibility, so they are only painted at the end.
With time the silhouettes have become more refined, they are painted in one go, just a stroke of the knife, like a flash, no retouching. They bring a lot to my paintings: the presence of the human in the coloured harmonies created in the background, the elegance I wish to give them, and by their difference in size they reinforce the perspective and the depth of the canvas.
Some of them are illuminated (light coming in from the right or the left), others are raw.

At this stage I turned to abstract landscapes which are often interpreted as landscapes only because of the presence of silhouettes.
The desire to discover other fields of research directed me towards the kaligrafiks occupying the space (and no longer as a complement or final touches). I highlight an arrival of light by coloring for example all the places which would be illuminated by a light coming from left or right.

On some canvases, I chose to paint the inside of the loops with bright colors reminiscent of street art, which give the work a resolutely modern look.
I also introduced sand in some compositions. I mix it with vinyl glue and acrylic paint which gives a rough effect to some parts of the canvas, or even the whole canvas when there is sand everywhere.

The title of each painting is chosen meticulously, it is an important marker that is an integral part of the canvas.
Sometimes it appears in the course of work, sometimes at the end, I never think about it before because it would inevitably upset the spontaneity that allows me to paint as I paint today.


We are in 2021 and here I am with more than 1000 paintings to my credit since 2013.
When I completely changed my style that year, I thought that my pictorial experience would be useless since it came from such a distant universe. With hindsight, I know that my paintings have light arrivals, a composition, an occupation of space that comes to me precisely from this rigorous learning.
Each step has brought a new word and enriched my vocabulary, each canvas is like a sentence, sometimes I use only one word, sometimes I mix them, and in my longest sentences, I put all the words I know, I know that each sentence is intended for a different listener, and that each listener has different tastes... the desire to please certainly...


Website : http://www.jeanhumbertsavoldelli.com

Instagram account: @jeanhumbertsavoldelli

Facebook : https://www.facebook.com/atelierjhs



I exhibit all year long in my workshop gallery " LA GRANGE DU CLOS JEANINE " near CAHORS

I am currently present on the WEB galleries " SAATCHIART.COM " and " SINGULART ".

I appear on the paper catalogue of SAATCHIART.

I appear on the supplement of the English art magazine TALLULAH entitled "15 contemporary artists to follow

I obtained the 2nd prize of the Jury of the 5th RANKART competition.

In 2019 the American company DOLCEZZA based in Quebec acquired the rights to two of my paintings for its Simply Art Fall 2019 collection, our collaboration should continue for the Spring 2021 collection with the acquisition of the rights to another painting.

In 2020 I participated in the 2020 exhibition "STROKES OF PERFECTION" compilation of indian & international masterpieces October 18/19 New Dehli India

01 to 31 october 2020 exhibition in augmented reality ARTEBINARIA "Art inside Gallery" Florence Italy

1st prize best seller 2nd semester 2020 SINGULART

listed I-CAC 2020

Exhibition " Back to Life " at the Moana Gallery in Martel 46600
Translated automatically
Interview of Jean-humbert Savoldelli for Gallery Crillon
Can you introduce yourself and tell us about your background?
I am 65 years old and I have been painting for over forty years. I started by painting on walls, in private homes or in public places, I had reached a fairly good amateur level but could not pretend to professional status until I had acquired a certain know-how such as imitations of materials (wood, marble etc.) the elaboration and execution of frescoes, the use of different mediums, and the principles of painted ornamentation.
I finally acquired this knowledge after a training in a decorative painting course in 1995 where I obtained the 3rd prize in the final competition.
I painted a lot, in various places in private homes or in public places such as the hotel "Le Royal Mansour" in Casablanca or the "Fishermen's Cove in the Seychelles.
In parallel I painted a little on canvas, but I really did easel painting only from 2006.
I started with what I knew how to do, figurative with a marked taste for the hyper realism style that had been taught to me during my training, to move in 2013 to a style closer to the abstract.
It was necessary to leave oil and brushes for acrylics and knives in order to free myself from the acquired technique that was detrimental to my spontaneity.
Before 2006 I was working in a big airline company as a flight attendant and so I travelled a lot, I think this had an influence on the variety of my painting, I don't want to confine myself to one style, I want to continue to travel...
What does your work aim to say? What are the major themes you pursue in your work?
In my work I want to be a support, a support to the dreaming.
My wish is that the viewer enters my canvas and appropriates it little by little, that he travels there, that he discovers things that I did not even want to paint.
My painting has again evolved a lot since 2013, the silhouettes have become to this day inescapable, I find it hard to get rid of them because they are what give the human scale to my composition.
On most of my canvases at the time I paint them, that is, at the end, my canvas is purely abstract, it is their presence that reveals the landscape in the background.
As I wrote earlier, I don't want to lock myself in, so the landscapes are sometimes replaced by other elements such as the "Kaligrafiks" as I like to call them, which are convolutions of slightly diluted paint, gestural paint that swings on the canvas and delimits flat areas of color, my silhouettes are still there, spectators and actors at the same time.
I may abandon them one day, but that day has not yet come...
What emotions do you want to inspire through your artworks?
The different emotions aroused by the abandonment of oneself, the Dream.
If the spectator becomes an actor, even and especially without his knowledge, my bet is won.
It is one of the reasons which make me wish to bring poetry and elegance in my painting.
Presumptuous... perhaps...
What is the artistic project you are most proud of?
More than a thousand paintings since 2013, each one different in a style that I find hard to describe, but that is immediately identified by those who know me .
Of these thousand and more paintings, there is one painted recently, a commission for someone I know very little about, but nevertheless enough for the commissioner to say to me: I would like a painting for her, with what you know about her.
It became the title of the painting "WITH WHAT YOU KNOW ABOUT HER" I painted it in an hour, but it was as if the previous hundred had only been painted with the aim of succeeding in this one... a miraculous painting
What's your connection with Japan?
I love Japan!
Its culture, its people, its traditions, its landscapes.
I had the chance to go there very often during my former professional life (commercial aviation) and I am very proud to have two of my paintings somewhere near Yokohama...
I have sent them all over the world but I have never been so proud as when a gallery told me that two paintings were going to Japan... two paintings in the Land of Refinement with my name on the bottom right... indescribable joy!
The Crillon Gallery is for me an opportunity to make my works known in the archipelago
Translated automatically
Artist's credentials
1er prix meilleur vendeur 2ème semestre sur SINGULART
2ème prix du Jury au 5ème Salon de Peinture Abstraite RANKART
LA VIE QUERCYNOISE article concernant l'exposition de toiles à Martel dans la galerie Moana