I want my work to scream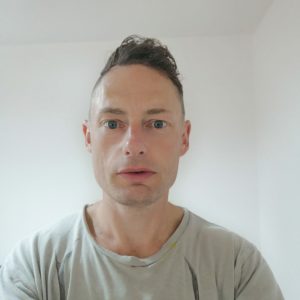 Styles:

Figurative, Fine Art, Portraiture, Realism
I have often been asked why I paint homeless people or people on an emotional knife edge. From a very early age I had always wanted to paint those people who are the victims, I do not know why, why would a young boy want to sketch a homeless person rather than a still life, a landscape or a portrait of someone that they know? I firmly believe there are some questions that you can not answer, sometimes your heart tells you something and you just have to follow it no matter where it takes you. This is how I feel. When I paint a still life or any other subject my heart is not there, there is no emotion yet when I paint a person that has the misfortune of constantly having to walk on a cliffs edge and whose emotions are stretched to the limit my heart beats faster, my emotions fight with the image, the image is the subject and it is me. I have been told by many to change subject matters to those that would look nice on someones wall. I do not want to. When someone purchases one of my paintings they are purchasing a bit of me, a canvas battleground of emotion. This is my calling.
I have met some of the nicest and true people that I have ever met on the streets, people who smile and laugh when their physical and emotional pain almost forbids them. If I can raise awareness of this issue through my art then I am a truly happy man as I have achieved what I was told to do.
James Earley 2021
James first came to prominence in 2013 when he was chosen to be a part of The Art Investors acclaimed 2013 "Seven Artists Exhibition", this exhibition was held at London's strand Gallery and focused on 7 of the very best young Artists in the world. James' display of his portrayal of famous musicians was much publicised.
His work took another route in 2015 with his powerful and emotional studies of homeless people, victims of war and religious martyrs. This work took him to another level in the art world as he was nominated by The BP award, The Royal Institute of Oil Painters and The Royal Institute Of Portrait Painters culminating in his work being displayed at the iconic and famous Mall Gallery in the heart of London.
James has been described by the German Kunst Heute publication as well as The International Contemporary Art Curators as one of the most significant artists in the world today
In 2019 James was awarded the prestigious International Michelangelo International Award and won the first prize at the London Biennale and in 2020 James was awarded "The International Artist of the Year" by The International Art Contemporary Magazine and "The Venice International Art Award".
James Earley has thus emerged as one of the foremost pioneers of figurative painting in Britain today, a fact all the more remarkable since James is a self taught artist.


Interview of James Earley for Gallery Crillon
How would you describe your artistic style?
I am a realist oil painter who paints people that live on the edge of society. I want to help make the invisible visible and I want my work to scream
Are there any particular artists, art movements or visual traditions that influence your work?
My favorite artists are Goya and Caravaggio who painted real life.
What emotions do you want to inspire through your artworks?
I want my work to shake the viewer, I want it to shout and scream. I want the viewer to ask questions, deep questions when they view my work.
Can you tell us about a project you are currently working on?
I am going to paint 7 portraits of people who have been on death row in the US but have been exonerated and proved innocent.
What would you do in life if you had not become an artist?
I would have used art to help people who suffer with mental trauma.
Translated automatically
Artist's artworks

Artist's credentials
Portrait Exhibition at Rubine Red Gallery Palm Springs USA
The Sinclair Gallery, Rickmansworth London
The Dante Alighieri International Award
Southampton City Art Gallery
Winner of The London Biennale Painting Prize