Matter occupies a place in space under a given condition or problem. I pursue the sensory experience through the object and its light.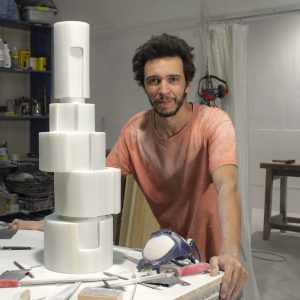 Styles:

Abstract, Fine Art, Geometric
Borja Barrajón Acedo was born in Madrid (Spain) in 1985.
He started his formal education as sculptor in the beaux arts of Madrid in 2006 and since then, he has always had clear that stone was going to be the main material that would give form to his career.
Despite his youth, Barrajón began to stand out with his first works in contests, scholarships and collective expositions where varied prizes and honorable mentions were awarded between 2009 and 2013, besides participating in different collections and museums.
Since 2014, he started to expose in different national exhibitions and the ones that stand out the most are "Flecha: Fair of Contemporary Art" and "Art Madrid fair ", whose appearance and acceptance from the public prove that the visions of this young artist is beginning to take a place inside the emerging Spanish scene.
During these latest years, he has represented contemporary art in his country in different galleries, making his most important individual exhibitions: "Reflections about the Void" and "The Form´s Identity".
Barrajón understands sculpture as the order and organization of forms in the space, carrying out abstract compositions where matter takes place under a certain condition or contemplated problem. Each sculpture is the result of his present, being free of expressing his emotions and concerns that invade him through all the process, making each work a once in a lifetime unique piece. That is why we have been able to find that huge diversity of forms and emotions, because they are a reflection of a very specific moment that gives every sculpture its own character and personality under a personal perception in constant evolution.
Artist's artworks
« ALABASTER »
Artist's credentials
Cafmeyer gallery.(Belgium)
"The form´s identity". David Bardía art gallery (Madrid)
Personal exhibition in Hesperia hotel. (Madrid)
"Reflections about the void". David Bardía art gallery (Madrid)
Fair of Contemporary Art, Flecha. (Madrid)
Fair of Contemporary Art, Flecha. (Madrid)
Fair of Contemporary Art, Flecha. (Madrid)
Fair of Contemporary Art, Flecha. (Madrid)
Fair of Contemporary Art, Flecha. (Madrid)
Fair of Contemporary Art, Flecha. (Madrid)
Fair of Contemporary Art, Flecha. (Madrid)
Fair of Contemporary Art, Art Madrid. (Madrid)
Primavera 9 art gallery. "ARCO in spring ". ( Madrid )
Affordable Art Fair. London Hampstead ( London)
Affordable Art Fair. London Battersea. ( London)
Fair of Contemporary Art, Flecha Porto Pí. ( Mallorca)
Start´19. Sculpture network. Espiral Gallery. ( Cantabria)
Art Fair Marbella (Málaga)
Exhibition in Casino Gran Madrid, 36th anniversary (Madrid)
Art Fair Marbella (Málaga)
Exhibition in Casino Gran Madrid, 32th anniversary (Madrid)
Collective exhibition "Alabaster Art 2009" (Zaragoza)
Collective exhibition of grantees, San Miguel church, Ayllón (Segovia)
Permanent collection
(2011)
Museum of Contemporary Art Obispo del Vellosillo, Ayllón (Segovia)
Permanent collection
(2011)
Faculty of Beaux Arts. Complutense University (Madrid)
Permanent collection
(2009)
Town hall of Majadahonda (Madrid)
Permanent collection
(2012)
Marqués de Valdecilla museum (Cantabria)
Permanent collection
(2014)
Capital art, magazine collection (Madrid)
Permanent collection
(2021)
Town hall of Albalate del Arzobispo (Teruel)
1st prize in the 10th tour of Young Artists (Madrid)
Honourable mention in the Royal Academy of Beaux Arts, Saint Isabel of Hungary (Madrid)
Other achievements
(2012)
1st Symposium Ramón Pelayo (Cantabria)
Villa de Ayllón grant. Department of Sculpture, Beaux Arts faculty of Madrid (Segovia)
78th Autumn venue, Spanish Association of painters and sculptors (Madrid)
1st prize, 15th contest of sculpture "Manuel Martinez Bragagnolo". Majadahonda(Madrid)
Acquisition prize "Sculpture department", Complutense University (Madrid)
1st prize, 13th contest of sculpture "Manuel Martinez Bragagnolo". Majadahonda (Madrid)
Other achievements
(2008)
6th Symposium of sculpture in alabaster (Teruel)
Other achievements
(2021)
13th Symposium of sculpture in alabaster (Teruel)